Pawna Lake is essentially an artificial lake brought into existence due to the Pawna dam (Pavana dam).  Pawna dam is located on Pawna river in Maval taluka, around 40 km from the borders of Pimpri Chinchwad city. Its capacity is around 10 TMC. The construction of the dam began in 1963 and ended in 1972, is 1,329 m (4,360 ft) long and 42.37 m (139.0 ft) high, with a gross storage capacity of 0.24 km (0.058 cu mi). The backwaters of the Pawna Dam formed a reservoir, and the Pawna Dam backwaters subsequently came to be known as Pawna Lake.
Pawna Lake's geographical location in the Western Ghats makes it a natural hot spot for flora and fauna. Pawna dam is operated by Pimpri Chinchwad Municipal Corporation. Main purpose behind construction of Pawna dam is hydroelectric power generation and water supply. Pawna hydroelectric project and Multipurpose Project are built on Pawna dam with power generation capacity of 1250 MW.
Mumbai to Pawna lake :
– Via Dudhiware khind = 105 km
    Mumbai > Lonavala > Bhangarwadi > Dudhiware khind > Pawna lake.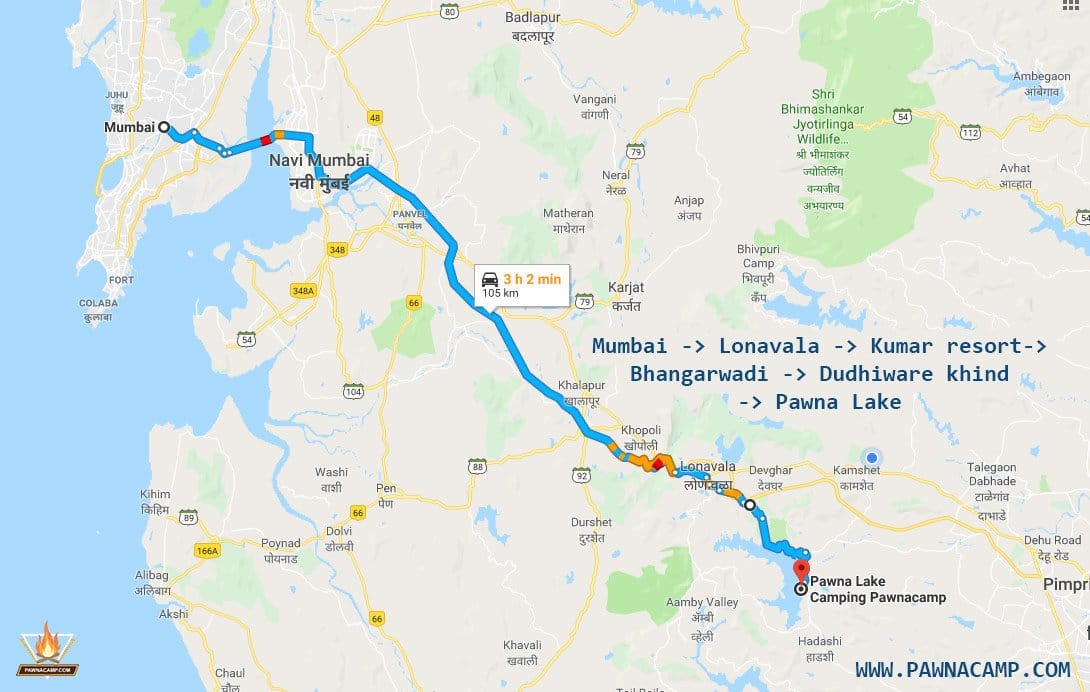 – Via Kamshet = 122km
    Mumbai > Lonavala > Kamshet > Pawna lake. 
Pune to Pawna lake :
-Via Kamshet = 65km
Pune > Pimpri Chinchwad > Kamshet > Pawna lake
-Via Paud road = 45km
Pune > Paud > Kolvan > Jovan > Thakursai > Pawna lake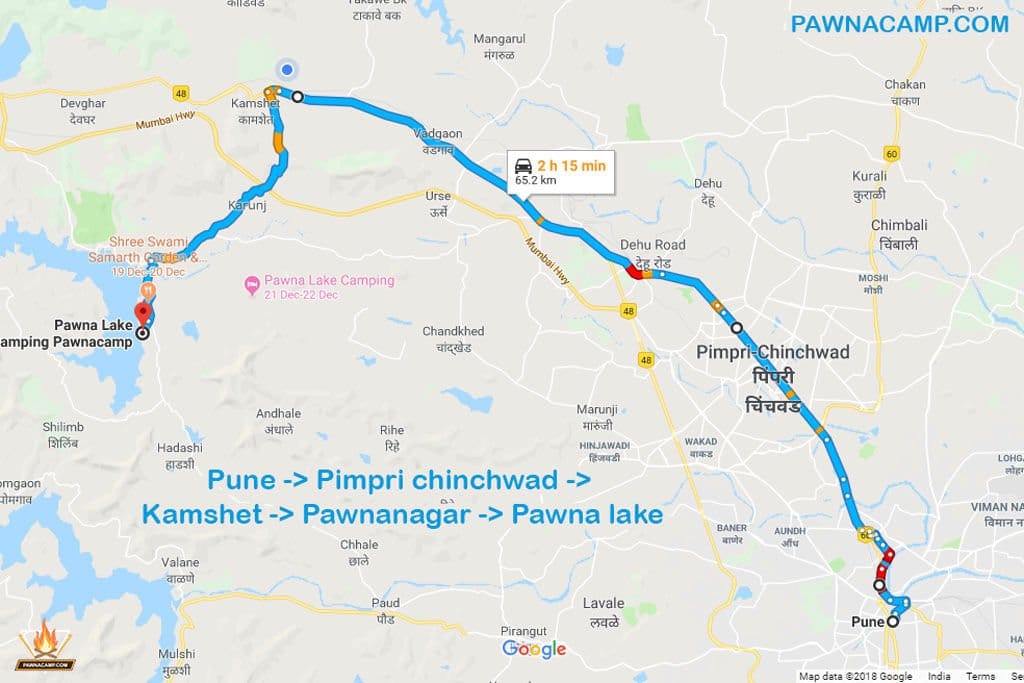 Pawna Lake's proximity to the happening destination of Lonavala makes it easily accessible to from there. It is just around 20 kilometres away from the Lonavala Railway Station. The easiest way to travel would be to hire a taxi or a cab from Lonavala. 
      There is good road connectivity from Pune, Lonavala and Mumbai to Pawna Lake. The nearby town of Kamshet, off the Mumbai-Pune Expressway, also offers a lot of transport facilities to the lake which is only 35 kilometers away. The nearest railway line is in Lonavala, and the train route is pretty scenic as you approach Lonavala.
 In recent years, areas surrounding Pawna Dam and Pawna Dam Reservoir have seen rapid rise in tourism due to the water body's proximity to Lonavala hill station and forts such as Lohagad, Tikona and Tung. Various camping-site businesses have been started around the Pawna Dam Lake. Agro-tourism has also flourished. Pawna Lake attracts visitors mainly from the two major neighboring cities of Pune and Mumbai. Around 4,000 people from these two cities visit the lake every weekend.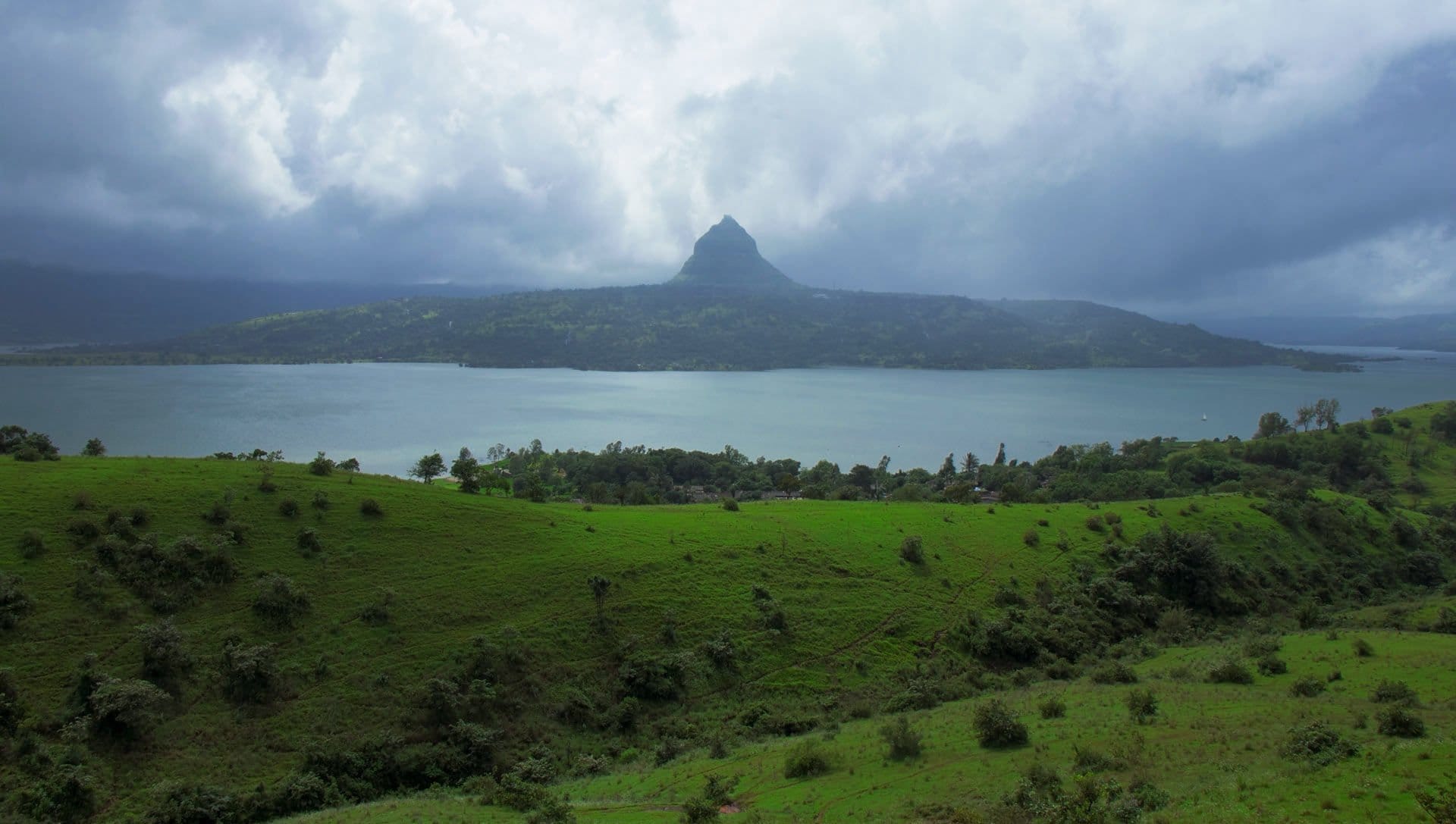 Things To Do At Pawna Lake
Adventures At Dudhiware Waterfall
Camping at Pawna lake
Paragliding
Trek up to the Lohagad or Visapur
Tikona Fort Trek
Kayaking at Pawna lake
1) Adventures At Dudhiware Waterfall
        Dudhiware waterfall is seasonal monsoonic waterfall and is located at Dudhiware village, near Lonavala. This 2-tier waterfall falls at the height of about approx 135 feet from a rock structure. One can enjoy the beauty of Dudhiware waterfall and also thrill of water rappelling, zip lining, valley crossing, etc.
It's streams are active during peak monsoon season. The only season for waterfall rappelling is during the monsoon. At this time the streams and rivers run full and all the plateaus drain rainwater into waterfall at the cliffs.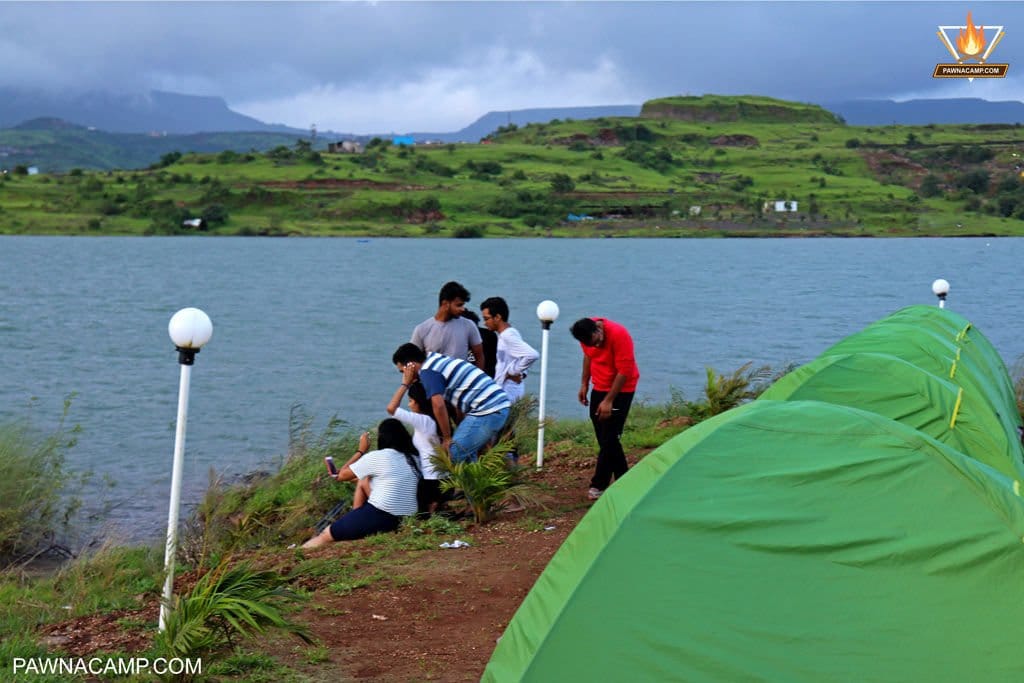 Pawna lake, also known as Pawna Dam Reservoir. The reservoir is 25 km from Lonavala and is increasingly getting popular as picnic and camping site for visitors from Pune and Mumbai. This is one of the quick weekend getaways and considered as one of the best camping near Pune and Mumbai. Camping is one such experience where the soul gets rejuvenated and relaxed betwixt the wonderful nature open in all season and for people of all age groups. Camping in monsoons provides a perfect retreat. Sleeping under the stars with a background score of crickets and a faint breeze crams the tiredness out and fills it with new energy.
         Pawna lake camping is really famous and attracts a lot of corporate and young crowd. Tents are placed around the periphery of the lake and one can enjoy the meals and recreation on the waterfront. The establishment becomes lively with live music, bonfire, games and barbeque dinner, turning the evening into a perfect getaway.
3) Paragliding at Pawna lake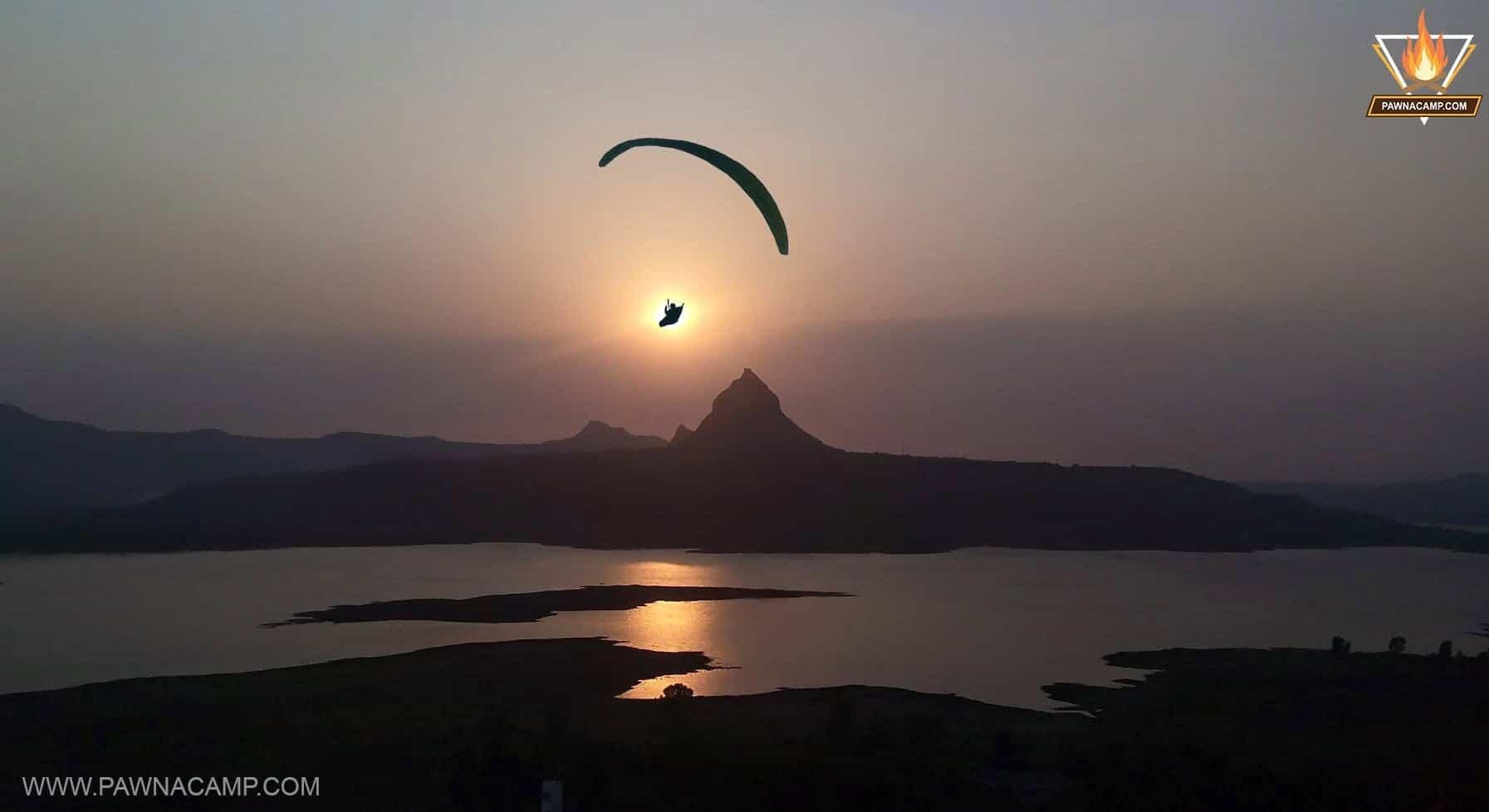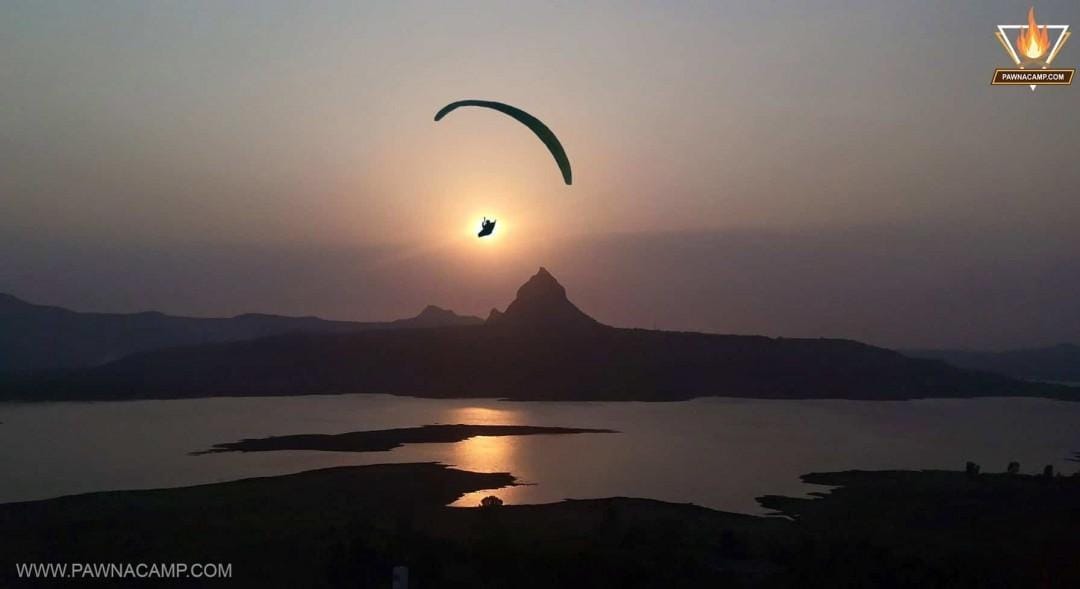 A must visited destination for adventure lovers, paragliding here lets you enjoy a wonderful flight over Pawna Dam. Plus, watching the sunset at the horizon as you fly like a kite, is certainly an exhilarating experience.
Paragliding helps you to break the chains of gravity and open the gates to the skies. It's not just about paragliding, it's the way you look at life!
4) Trek up to the Lohagad or Visapur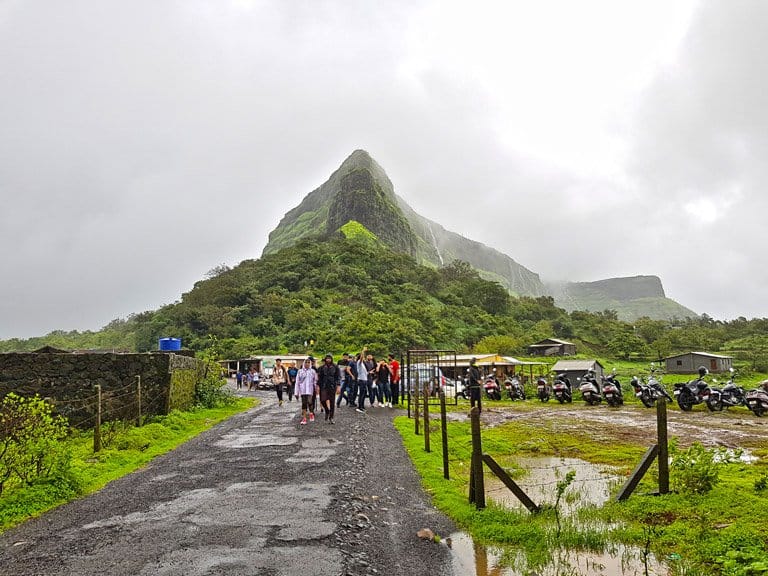 Lonavala or say Mawal is treasure of beautiful mountains and forts. Lohagad fort and Visapur fort are also located in Lonavala. Lohagad is one of the best forts to visit during any time of the year. Lohagad fort is connected to Visapur fort which is also a good trekking place if you have the time to cover both the forts in one day.
         Visapur fort is larger and at a higher elevation than its twin fort Lohagad. This are very easy treks and even a novice trekker should not have any problems. At Lohagad, there are only steps and less amount of trekking is required while trek to Visapur fort is a treat for the adventure enthusiast in everyone.
       Tikona also known as Vitandgad is the dominant hill fort in Mawal. It is located near Kamshet around 37.7 km from Lonavala. The 3500 ft high hill is pyramidal in shape and name Tikona means 'Triangular'.
           The fort is trekking destination noted for large doors, the temple of 'Trimbakeshwar Mahadev', seven water tanks and Satvahan caves. There is a temple inside the cave which is main attraction of the fort along with water cistern. The entry to the entrance of the fort is bit steep with curved stairs. One can get the eye-catching views of the Pawna Dam and the forts at Visapur, Tung and Lohagad. In short the view from the fort is spectacular.
6) Kayaking at Pawna lake
            Though kayaking has slowly gained popularity among the adventure community, it is still an activity that's outside the mainstream in India. It remains rather than competitive sport. Nevertheless, now kayaking is available at Pawna lake near Lonavala.
            Everyone should experience kayaking at Pawna lake because it can be so peaceful, yet you are right there in nature. However taking up kayaking can have more long term benefits to your physical and mental well-being than you realize.    
Sightseeing Around Pawna Lake​
Pawna dam is one of the explored spots around the city. It's an ideal getaway for a tranquil one-day outing. The lake provides fresh water to the Pimpri Chinchwad area. People headed to the lake can also visit several forts like Tungi, Lohgad and Tikona and many temples in the vicinity. An artificial lake, Pawna Dam is located about 15 km from Lonavala in the Sahyadri ranges. It's nestled amidst greenery and hills offering a great view. Pawna Lake came into existence as the Pawna Dam was built in the area, which now along with being a source of fresh water, also serves as a host for tourists who come here for soothing their minds, camping and for picnics. Trekkers also often explore this area. Plenty of advertisements are shot with this lake in the background. An island in the middle of the water body adds to its beauty. This place is like an artist's palette, offering plentiful colors with blue waters, green vegetation, brown hills and the open blue sky above
Pawna Lake offers all you've dreamt of in a holiday location – a calm setting, beautiful landscapes with unmatchable sceneries and the freedom to explore. From the ancient ruins of forts to untouched pastures of lands, there is so much to see. 
Lohagad Fort: One of the most scenic hill forts in the state of Maharashtra overlooking the Pawana Lake which is located to the south of the fort.
Visapur Fort: An extension of the Lohagad Fort on the Lohagad-Visapur fortification line, at the height of 3,550 feet above sea level.
Tung Fort (Kathingad Fort): With an elevation of 3,527 feet, Tung Fort is one of the hardest forts to access. Reaching it from the Pawna Dam requires a 400-meter steep climb.
Koraigad Fort: Extremely well preserved and intact, this fort is as pretty as a picture. A must visit.
Tikona Fort: One of the oldest forts in the region, dating back to the 7th and 8th Century A.D. This hill fort is pyramidal in shape and offers charming views of the reservoir and the other forts.
Best Time To Visit Pawna Lake
Due to a pleasant climate throughout the year, Pawna Lake remains an underrated favourite to be visited anytime you want to. Most of Lonavala and surrounding areas are parched and many water bodies dry up in summer, but this being a dam had water even in May.
      Summers at Pawna lake are short yet vivaciously hot and humid. It experiences high humidity during the summers with scorching mercury rise of 40 degrees Celsius and hence this season may feel uncomfortable for tourists to visit the town. The summers at Pawna Lake starts from the month of March and extends till the end of April. The nights, however, are comfortable and cool. The place has a tropical climate and receives considerable rainfall during the year.
      The monsoon months are astounding as the pastures and meadows turn vivid green, a perfect time to savour the eye-pleasing gifts of nature.
       Winters welcome the tourists that are looking for cool and pleasant vacations in the Southern India. Winters are considered as an excellent season to visit the town where the nights are cool and chilly with a mercury drop of 13 degrees Celsius and a maximum rise of 30 degrees Celsius.
Camping And Local Economy
Agro-tourism at Pawna Lake has improved relationships between farmers and the community. A thriving, reputable agro-tourism destination is usually an asset to the community, in contrast to many conventional farms that can justly be seen as liabilities. Agritourism put Pawna Lake on the map.This in turn makes it extremely compatible with a balanced definition of sustainable agriculture.
     Agritourism has transformed a farmer into a price-maker rather than a price-taker. This one offers an opportunity to generate additional income from an existing land base. Agritourism has proven very profitable to those with the know-how. This boosted income not only improved the lives of the farmer's family—it enabled a farmer to create new paying jobs for multiple family members, perhaps including some future farmers. But the economic impact of agritourism is often considered significant but small.
Agriculture Around Pawna Lake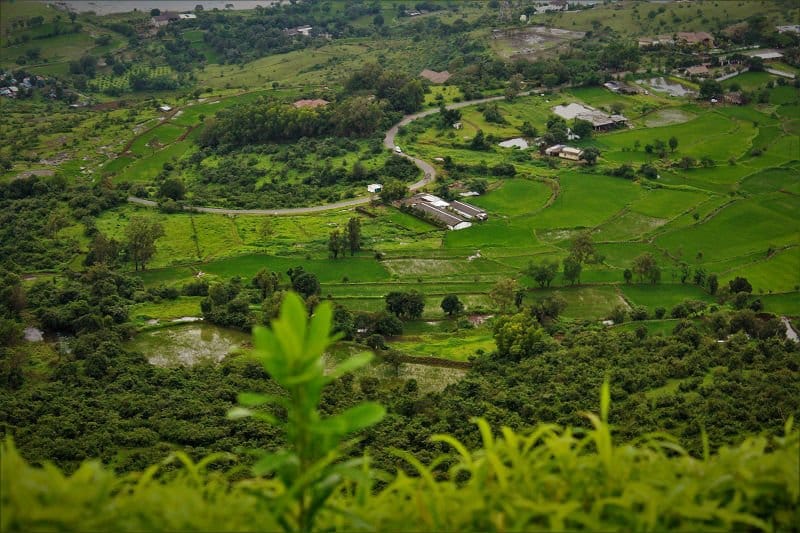 Pawna lake is a huge water retaining structure. During season of low rainfall or during summer, the stored water is used for agricultural purpose. Due to huge storage of water it passes down to underground water stream and increase water level. Subsequently this increased water level increases the water content in wells of nearby villages.
         During summer time main crops grown around Pawna Lake are Wheat, Groundnut, Pulses, Bajri, Jowar, seasonal crops like tomato, cucumber, etc. While in monsoon rice is grown in large quantity. Sugarcane is also the crop taken on large scale.