Hello people, this is Akshay from Pawnacamp. I manage the customer support team, field execution, and business development since the year 2017.
There are more than 70 campsites at Pawna lake. Out of which, only 12 campsites are working under the name of Pawnacamp. The rest are working individually or under different names. I remember the time when I started this local business. During that time, there were only 5-6 campsites at Pawna lake. We were focusing on quality over quantity. There was a time when we could simply deny bookings because of houseful.
Nowadays, there are many camping businesses around Pawna lake and different types of people with different intention. As per my calculation, there is a 30% chance that you will be getting a campsite which is been haphazardly managed by local vendors and staff.
I have scrutinized more than 1300 feedback forms to know the problem behind bad or terrible experiences. My primary intent was to understand the measurable factors and loopholes for unpleasant experience and how to resolve them. Respecting privacy, I won't be disclosing all the facts, persons and incidents. However, I will discuss the reasons and common mistakes. I am very sure this will help you to make better decisions while booking at Pawna lake camping.
The first reason is,
You must have got on the wrong boat!
If you book a campsite without knowing a type of crowd visiting on your date then you may not like the overall environment. Some camps are dedicated to families or couples only. Camping is all about freedom but surveillance is also necessary. However, there are many other camps at Pawna lake where there is no restriction when it come to the type of crowd and their behavior. Some guests never try to understand a single word when they are boozed up. Sometimes it becomes a worst situation where you may have to argue with other fellow campers.
A few weeks ago, Randeep and Komal from Stray Artist (Youtube Vlog) visited one campsite near Pawna lake. This campsite is not operated by us. Watch below video to understand how other fellow campers can affect your experience.
Couples should book in the couples section only.
Families should book in the family camping only.
Check with the silent hour policy.
Immediately report field coordinator or call support team for any inconvenience caused during camping.
Mismanagement of transportation
Travelling can be a very hectic part of your trip if not managed properly. You must be spending a minimum of 3 hours and 5 hours in transportation if you are coming from Pune and Mumbai respectively. Reaching Lonavala is easy but from Lonavala to Pawna lake, there is no public transport. You have to catch a private vehicle to the campsite. These private vehicles are costlier than average. They will charge you 1000 to 1200 rs one way per vehicle. The cost is irrespective of the number of people and sharing may not be possible most of the time.
Tip:- In the below-given video, you will find a shortcut route while coming from Mumbai.
Waiting is frustrating! If you are coming from Lonavala to Pawna lake by Private transport. You should book your cab in advance at least one day prior. Inform the driver about the time of your arrival at Lonavala railway station so the driver will reach there before time. Once you book online, we provide some honest cab driver's contact numbers in the confirmation email.
You should not search for anything on Google Maps because there are many spammy locations. You need to follow the pinpoint provided in email and SMS. It's better if you download a Google map to our location so that you can access it offline wherever there is no coverage. Make sure your GPS is turned ON and enough charge on your registered phone.
Vritti Khawani has explained her travel experience in the following video.
Expecting that everything will be private
In Pawna lake, camping is a group activity. On most of the weekends, there would be around 25 to 40 people on each campsite. The tent will be separate for couples and families. However, most of the tents will be close to each other. You may not be finding a private space unless you are visiting on weekdays.
See the below picture to get an idea of tent spacing on long weekends.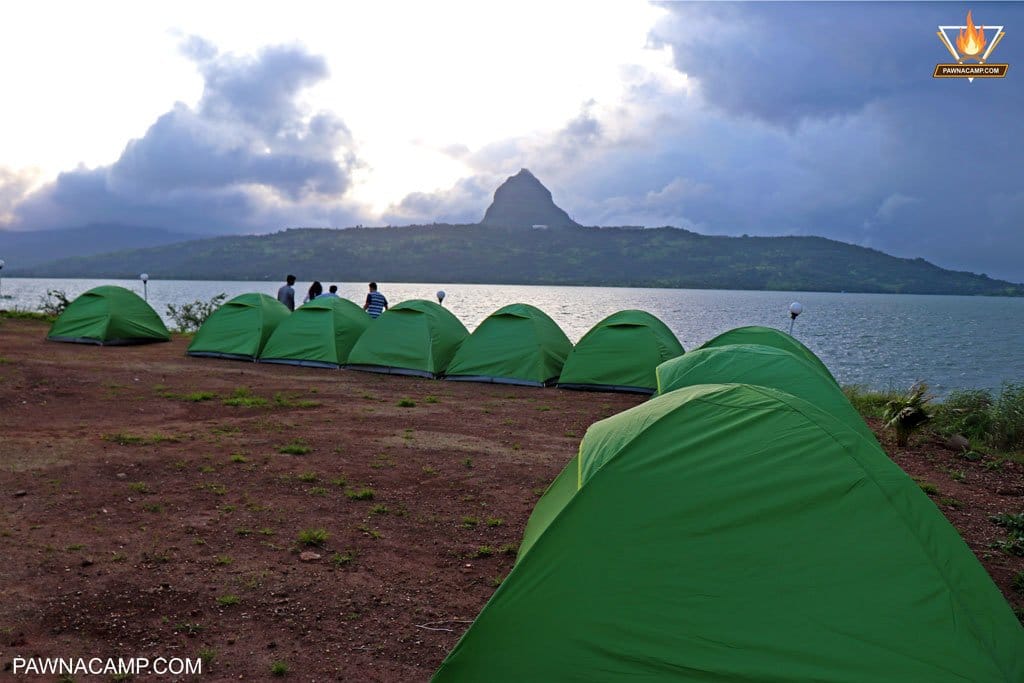 On most of the campsites, barbeque is a common activity. Staff will be doing live barbeque in front of the guests and serving instantly. If you want a separate barbeque grill for your group then choose our camp E and try your hands. Sports activities are common and you may have to wait for your turn.
Some people don't like sharing spaces, activities and eventually end up with disappointment.
Going for cheap campsites
There is always a value to money ratio in the travel industry. The high cost comes with high responsibility and some irresponsible camp organizers won't cost you high. We always recommend better campsites on-call inquiries as per your needs. We advise you to book any campsite only after checking reviews on Google map
Not checking the food menu
Most of the campsites have a fixed menu. You should check the food inclusions before booking. There are no restaurants nearby, so make sure that you are comfortable with the food menu. Jain people should ask for Jain food options beforehand.
Not carrying necessary things
There is "things to carry" section in the service description. If you are unable to find it then simply ask us or WhatsApp (838 100 4848). Carrying sweater in winter, Umbrella in the rainy season, etc. You should carry those things for your convenience.
Most of the campsites in Pawna lake are not operational during monsoon. Very few campsites provide all the amenities even during rain with proper arrangements. However, you will miss the bonfire and ground activities if it is continuously raining.
You may get very bad experience if you choose a campsite where there is no proper arrangements for monsoon.
If you are coming in monsoon then make sure to ask about the approach road conditions, shed arrangements and whether the tents are fully waterproof or not. 
Pawna lake has become a commercial camping destination. You won't be getting a real adventure or real camping experience. Rather, its a more convenient type of camping, where you will be getting a spoon-feeding of every activity. This thing is really good for newbies who are just getting started with the outdoor camping but Pro-campers may get disappointed with the extra arrangements. For instance, A pro-camper may not prefer a tent which has been pitched by our workers already.
Now, you must have got a good idea about reasons for bad camping experience. Kindly drop a comment if you have any suggestion.