From: ₹2,999
Weekday price: 2999
Weekend price: 3499 (Sat, Sun)
Description
Take to the sky for an extraordinary paragliding flight at Pawna lake with an accomplished pilot. Kick back and appreciate the amazing landscape as you fly in the entire quiet, and the world goes by under your feet. A pair flight is extremely the most ideal approach to encounter the magnificence of flying in a paraglider. Feel the breeze in your hair as you skim noiselessly on a flight that offers you a view superior to most enchantment rugs. You should simply unwind in your saddle, while your pilot flies you around. You can also check the combo package of camping and paragliding.
You need to book paragliding by paying online 500 per person advance and remaining payment needs to be paid by cash on arrival. (Note : Only cash is accepted at Paragliding venue)
---
---
FAQ
What is tandem paragliding?
Tandem paragliding is a radiant adrenaline surge. No experience is important, your pilot will do all the diligent work, you simply need to keep running on take off at that point take a load off and appreciate the view, and bear in mind to grin for the camera. A paraglider is a free-flying. A tandem is particularly intended to convey two individuals. The traveler is lashed into a tackle before the accomplished pilot.
Where do we fly from?
We fly from Pawna lake hills. This place is around 21 km from Lonavala.
Who qualifies as a tandem paragliding passenger?
If you have a will and weight is less than 120 kg, then we can fly you. If your age is 11 to 18, then we need written parental consent.
How long is a tandem paragliding flight?
Tandem paragliding flights are 8 to 10 minutes long. It may vary depending upon the weather situation.
What to wear for paragliding activity?
long-sleeved top and Long trousers, sunglasses, walking boots or training shoes. As we have to run across a slightly uneven surface so it is recommended to wear boots that offer some ankle support.
Is paragliding dangerous?
Paragliding is an extreme sport, nevertheless, you are in good hands with these pilots. All tandem pilots are highly experienced and certified. We will fly only if the weather is good. safety is key for us. Security safeguards incorporate saddles with back assurance, reserve parachutes, head protectors and watchful pre-flight checks and pre-dispatch perception. You will be advised before your flight, tune in to your pilot when you are advised to run you should RUN, don't take a seat.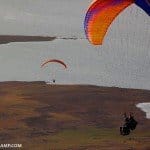 Tandem Paragliding at Pawna lake
Your review
* Review is required
Email
* Email is required
Add photos or video to your review
Q & A
There are no questions yet