Description
Event Date: 31 December 2023
Event time : 3 PM to next day 11 AM(Check-in time is flexible)
Ticket Price/Type: 3299/per adult and 1649/per child
Away from the hustle and bustle of city crowds and pollution, start your new year beside the lake with fresh air. Music and a Bonfire will add more fun.
* We will provide neon props from our side, such as caps, bands, googles & more
* Professional DJ only on Camp D
NEON OUTFITS FOR 31DEC
Note: It is not compulsory to wear neon outfits but recommended. Because the neon light will glow your fluorescent outfits.
Links:
1) for women: https://youtu.be/CW72DZuJbwA
2) for men: https://youtu.be/CB0ginvH_Q4
3) Pro tips: https://www.wikihow.com/Wear-Neon-Colors
Inclusions :
Enhanced Food Menu & Timings for 31 Dec – Updated
Welcome drinks: Soft drinks
*Snacks:* – (between 5 pm to 7 pm)
Pav bhaji & Tea, coffee
*Unlimited Starters:* – (between 7:30 pm to 9 pm)
Paneer chilly, Veg Manchurian
Chicken crispy, Chicken chilly
*Dinner:* (between 10 pm to 11:30 pm)
Veg: Paneer sabzi, Jeera aloo, chapati, dal-tadka, steamed rice, salad, sweet.
Nonveg: chicken sukha, Chicken curry, chapati, steamed rice, salad, sweet.
Ice cream (limited – 1 cup)
*Breakfast:* (between 8 am to 9:30 am)
Poha, Bread, Jam, Anda bhurji, Biscuits, Tea, Coffee
…………………………
Firecrackers and cake cutting at 12 am
DJ music till 12 AM with NEON lights
Bonfire & Tea after 12 AM
Late-night live music from 12:30 am to 1:30 am
Other :
• Common toilets
• Parking space
Things to carry :
• warm clothes
• torch
• liquid odomos
What is the cancellation policy?
A) 33% reservation-advance is no-refundable
B) 33% reservation-advance is adjustable (In the final payment) in case of partial cancellation if partial cancellation is made 48 hours before check-in time. Else full amount needs to pay.
SO PACK YOUR BAGS AND LET US TAKE YOU TO AN ENTHRALLING PARTY IN THE WILD. Book today for the New year celebration at Pawna lake camping
Book online by paying 33% advance online and the remaining cash or bank transfer on arrival.
Call 9834122218 or 8381004848 if you have any questions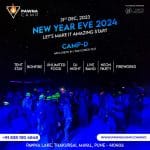 Camp - D : 31 DEC - DJ Night + Live Music
Your review
* Review is required
Email
* Email is required
Add photos or video to your review
Q & A
I says, DJ would only play until 12AM and then there would be live music until 1:30 I would like to know until when will the DJ play on 31st night. plz don't tell me 12Am because that is awww
Last year DJ was playing till 12.15 AM and live music after that. The same thing may happen this year also. We need to be flexible on NYE as per guest demands and local regulations.