Best Picnic Spot near Pune for Weekend: Pawna Lake Camping
Camping is a dream of every outdoor lover, especially at weekend. Driving along the Golden lakeside, enjoying the water mirroring the sky, camping in the middle of nowhere, staying in a tent next to the lake, feeling a warmth of a campfire, having the mouth-watering barbecue and singing away the night. if you are looking for the picnic spot near Pune for weekend, we can assure you that the pawna lake camping is the best picnic spot near Pune for weekend.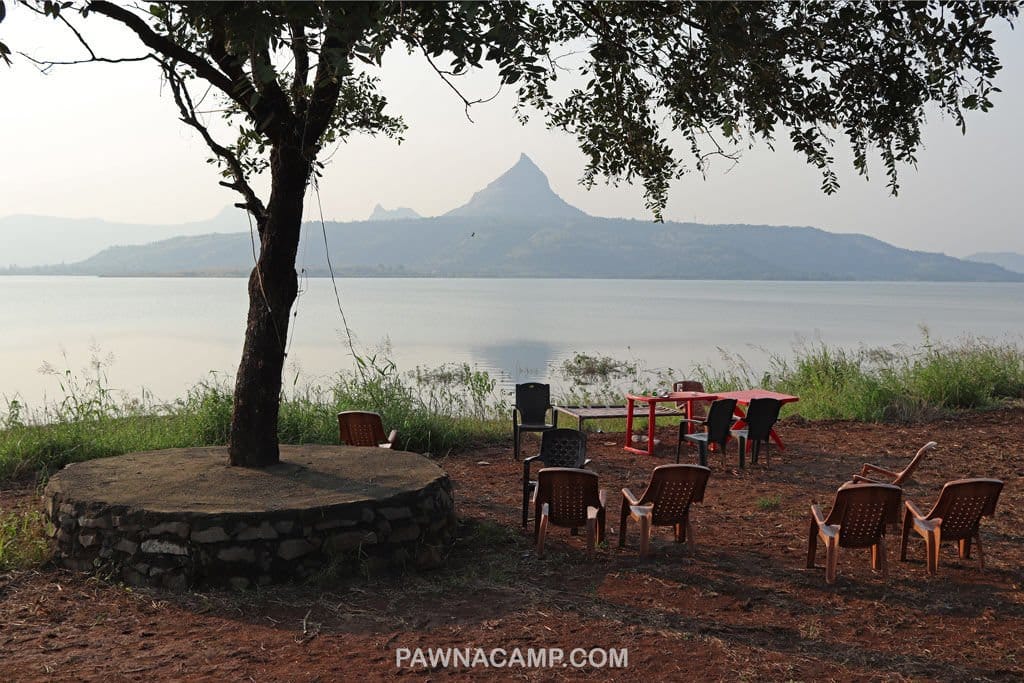 We bring you a chance to experience pawna lake camping first hand! You can learn how to pitch your own tent, set up BBQ, create campfire, engage with everyone as you play interesting games, get lost into the infinity of stars, share your spooky horror story, and sing the night away and many activities which makes memorable your camping Pawna is an extremely huge and adorable lake near the popular hill station of Lonavala.
Places to visit near pawna lake
There are many historical forts around like Tikona, Lohagad, Visapur, etc. to trek around. One can go for trek early morning to one of these mighty forts to catch the first ray of sun from the top! The reflections of huge Tung fort can be easily seen from our campsite – it makes a precise focal point for people who love nature. Nearby, a playground has adventurous activities including soft archery, dart game, football, cricket and hula hoop. pawna is one of the best picnic spot near Pune.
Expenses for best picnic spot near Pune  for weekend
1500 /- INR
Tent ( 3 person tent ).
Evening High Tea (with Pakoda).
Barbeque (Veg/Non-Veg).
Unlimited dinner (Veg/Non-Veg).
Campfire.
Breakfast on next day.
Paid activities : Trekking.
Free activities : Soft Archery, Dart game, Football, Cricket, Hula-hoop.
Other : Toilets, First Aid Kit.
Charges : ₹2100 Now ₹1500.
Pay just 500 per person online and remaining 1000 per person while check-in.
Call : 838 100 4848
Call : 888 803 8891
Description
Event schedule :
Check-in After 4:00 PM
Snacks at 5:30 to 6:00 PM
BBQ at 7:30 to 8:30 PM (limited – half kilo for 2 person)
Dinner at 9:00 to 10.30 PM (veg/non-veg – Unlimited)
Bonfire after dinner
Next day breakfast at 8:00 to 9:00 AM
Check-out around 11:00 AM
You will get to spend overnight in a tent beside lake. Inside tent you will get foam mattress, bed-sheet, pillow and one blanket per person.
This campsite is 21 kms from Lonavala. Transportation is not included in the price. you can bring your own vehicle for fun ride or you can hire a cab from Lonavala to Thakursai which will cost you around 1000 rupees one side. Free private parking space is available. Due to pawna's good connectivity it become the best picnic spot near pune for weekend
Things to do :
Just relax beside lake
trek to the nearby Tikona fort
Enjoy the Bonfire in night
Make BBQ
Playing sport activities on campground
Things to carry
Torch
Personal medicines
Extra pair of clothes, towel
Comfortable footwear
warm clothing or extra blanket(during winters)
Umbrella (during monsoon)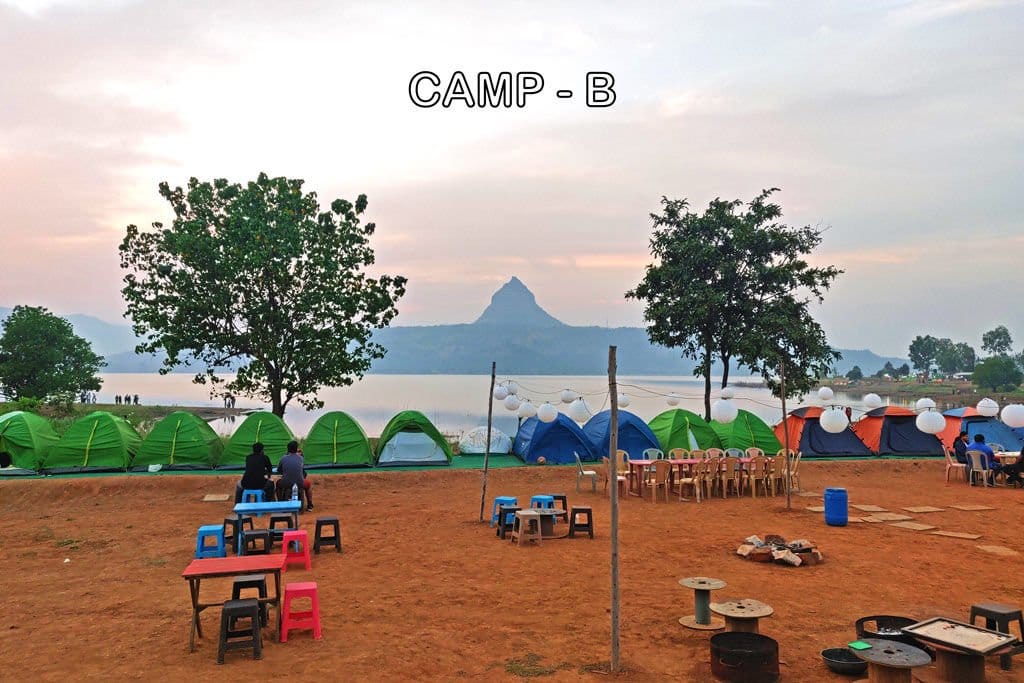 Getting here
From Mumbai:
(1) Drive on the National express highway towards Pune – Don't get into the Lonavala city instead drive towards Pune – Take left from Rautwadi bridge, which comes after 0.5 km from Kamshet tunnel (Don't miss the turn !) – Come to Pavananagar and then Thakursai village by taking help from google map location
(2) If you are not bringing own vehicle then come to Lonavala by train and then hire car from Lonavala to campsite.
From Pune:
(1) Come to Kamshet by Old Mumbai-Pune highway – Take left and follow Pavananagar road and google map location
(2) If you are not bringing own vehicle then come to Kamshet by local train hire car or jeep from kamshet to Thakursai. 
Frquently Asked Questions
Q 1) Is it available for this weekend ?
Ans : It is available for every weekend and weekday.
Q 2) Can I pay While check-in ?
Ans : No, You need to transfer some amount in advance. (Invoice will be sent)
Q 3) How many people can accommodate in one tent ? What is its size?
Ans : We have 2 person tents and 3 person tents
Q 4) Is the camping safe for woman and children ?
Ans : Yes, We are always there to assist you.
Q 5) What are arrangements in a tent ?
Ans : Tent has proper mattresses, bedsheets, pillow, etc.
Q 6) Is toilet attached to tent ?
Ans : No, Toilet is not attached to tent. Its outside.
Q 7) Are there wild animals or insects ?
Ans : No, There no wild animals and also we repel the peskiest of insects.
Q 8) Is there enough food provided ? Can i order more ?
Ans : Yes, the dinner is unlimited. However the BBQ is limited but you order it again.
Q 9) Do we have to roast our own BBQ ?
Ans : Its Your choice. We can make it for you.
Q 10) How is the mobile network at the campsite?
Ans : Jio, Idea, BSNL, Airtel, Vodafone is Good. Other networks are Poor or unreachable sometime.
Q 11) Are the washrooms at campsite clean ?
Ans : Yes, We make sure that its clean and hygienic time to time.
Q 12) Who are the staff at the campsite?
Ans : We, Native people from Pavana region will be there to serve you.
Ask more questions on WhatApp or call 9834122218 Or Call 8381004848/8888038891